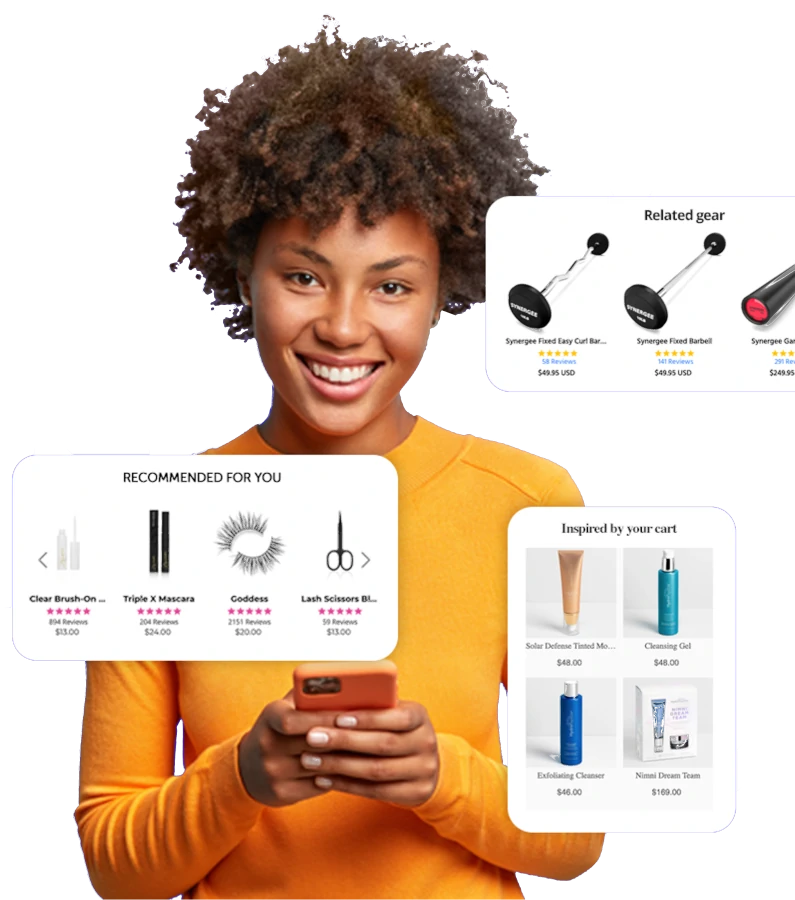 WHY OBVIYO
Your store abandoners are buyers in disguise
Preempt store abandonment by using anonymous visitor actions as buying signals to recommend products that your shoppers really want to buy.
Try Obviyo FREE
FREE Starter Plan. Go live in 60 seconds.
Mouseover / tap Growth Bots below to learn more or to take a peek at a few examples below.
Want to grow more revenue?
Activate these must-have recommendations to speed up and enhance your shoppers' product discovery.
A solution for non-technical ecommerce professionals
STRATEGY
Cast a wide net. More bots you add, more visitors you influence, more revenue you generate.

STEP 1: ADD APP
Must have Shopify admin access.

Step 2: GO LIVE IN 60 SEC.
Validate that all systems are functioning.

Step 3: ACTIVATE FREE STARTER
If needed Obviyo will help you customize styles and bot locations.

Step 4: MERCHANDIZE
Use advanced product recommendations, cross-sell, and upsell bots.

Step 5: PERSONALIZE
Leverage the power of Amazon AI.
How Growth Bots work.
Each bot is designed for a specific engagement mode. The common capability: using live visitor data and real-time AI.
Act 1: Real-time behavior

Continually track and process unidentified visitors actions and contextual data.

Act 2: Real-time AI

Use live visitor actions as buying signals to predict what products each shopper wants to buy.

Act 3: Personalized products

Display the most relevant products to individual shoppers in 70+ different modes.
Want to grow even more revenue?
Explore a rich library of advanced Growth Bots powered by Amazon's AI algorithms.